Deerfield Beach Towing Company
Deerfield Beach Towing Company – Towing Services Deerfield, FL
Towing services are often necessary when a vehicle is inoperable or needs to be moved for some other reason. If you're in need of a tow truck service in the Deerfield Beach area, it's important to choose a towing company that you can trust. Fortunately, there are many reputable towing companies in the area, so you're sure to find one that meets your needs.
One of the best tow truck services in Deerfield Beach, FL is Deerfield Beach Towing Company. We offer reliable and affordable towing services, and we have a team of experienced professionals who are dedicated to providing swift customer service. So if you're looking for a tow truck service in Deerfield Beach, be sure to give Deerfield Beach Towing Company a call by dialing (954) 787-2879.

About Deerfield Beach Towing Company
Deerfield Beach, Florida's most reliable towing service is right here at Deerfield Beach Towing Company. Whether your vehicle breaks down on Hillsboro Boulevard, under the palm trees of South Ocean Way, or anywhere else in Broward County, our team is available 24/7 to get you out of your jam.
We've been in business since the Bush Administration, helping drivers with disabled vehicles at all hours of the day. Finding a towing service like us is like finding a needle in the sand – we're the only ones who can offer you immediate, affordable assistance when you need it most.
If your car–or truck or motorcycle–has broken down and you're in need of towing services, don't hesitate to give us a call. We'll be there in a jiffy to help get you back on the road.
It's as easy as dialing (954) 787-2879. 
Towing Services For Almost Any Vehicle
Cars, trucks, SUVs, motorcycles, and even EVs fall right into our wheelhouse for easy towing. And what you're driving is going to be safe with what we're driving. You'll see no rough-housing, rusty trailers, or big, bearded tow truck drivers who look like they haven't slept in days.
Instead, you'll be greeted by a clean-cut, friendly, and professional driver who is more than happy to help you out of your current predicament. We understand that dealing with a broken-down vehicle is stressful enough, so we do everything in our power to make the towing process as smooth and easy as possible for you.
All of our equipment is fully functional so your vehicle won't be damaged during loading or unloading. And our team is highly trained in the proper way to load and unload all types of vehicles–even those low-to-the-ground sports cars that rich YouTubers like to drive.
No matter what type of vehicle you have or where it's broken down, Deerfield Beach Towing Company has you covered. Call us when the unexpected happens to your wheels.
Road Accidents
Towing isn't just about mechanical problems. Sometimes mishaps occur on the road, and for those we're here to help. Fingers crossed no one got hurt in the wreck, but if your car is no longer running, it needs to be moved from the road as soon as possible.
That's where we come in. Our team will arrive on the scene quickly to assess the situation and figure out the best way to get your car off the road. We'll also work with you and your insurance company to file any necessary paperwork and get you reimbursed for our services.
In a perfect world, accidents wouldn't happen. But this world is far from perfect, which is why Deerfield Beach Towing Company is here to serve you when they do.
Flatbed Towing Services
For those longer tows–say, from Deerfield Beach all the way up to Pompano Beach–a flatbed trailer is going to give you the best ride. Your vehicle will be loaded onto the bed of the truck and then secured so it can't move during transport.
This is the safest way to tow a car over a long distance, and it's also the easiest on your wallet since you won't have to pay for any damage that might occur during transport. So if you're in need of a long-distance tow, give us a call and we'll send out one of our flatbed trucks to get you taken care of.
Heavy Equipment Hauling
Need something moved that's heavy as a car? We have some pretty tough haulers in our fleet, so chances are we can help. Ask us about moving construction equipment, generators, or factory machinery. These things and more are handled by us all the time.
Our flatbed towing fleet could be just what you need to accomplish heavy equipment hauling. And because we're insured (and also really good at what we do) there's no need to worry about damage to your product. Deerfield Beach Towing Company does heavy equipment hauling like no other company around.
Winch Service
Is your vehicle stuck somewhere? Call Deerfield Beach Towing Company to "unstuck" it. Our powerful winches can pull your vehicle out of just about any situation, whether it's mired in mud, stuck between trees, or resting at the bottom of a ditch.
We're always up for a challenge, so don't hesitate to call us even if you think your situation is too tough for us to handle. Because we've been around for so long we've seen a lot. We'll do our best to get you–and your vehicle–out of harm's way.
Deerfield Beach Towing Company is here to help you with all of your towing needs, big or small. We have a wide range of services to choose from, and our team is always ready and willing to lend a helping hand. So don't hesitate to give us a call the next time you need a tow.
We're easy to reach at (954) 787-2879.
Roadside Assistance
Hey, maybe you won't need a tow after all. Maybe your vehicle can be repaired right there on the side of the road. Do we offer roadside assistance? Does a bear…roar in the woods?
Deerfield Beach Towing Company provides professional roadside assistance at all hours of the day. Just give us a call and let us know what's going on. We'll send out one of our highly trained technicians to help you get your vehicle up and running again.
And if we can't fix it, then we'll tow it. So either way, you're in good hands with Deerfield Beach Towing Company.
Lock-Outs
Aw, you locked your keys in the car, which doesn't have one of those fancy keypads on the door, or face recognition. It isn't KITT from Knight Rider, so you can't ask it nicely to please unlock the door. Now what?
Now you call us. Because our lock-out service is unbeatable anywhere in Broward County. Before you know it you'll be back behind the wheel. It's all part of our commitment to providing outstanding customer service.
How do we get into a locked vehicle? Not by smashing the window with a baseball bat. Screwdrivers and coat hangers are out too. We can sometimes get the lockout code for your car by making a few phone calls. Other times we have to use our special lockout tools to get the job done.
Jump Starts
Did you leave your headlights on all night and now your battery is dead? Or maybe it's just old and needs to be replaced. No worries–just give Deerfield Beach Towing Company a call and we'll send out one of our trucks with a jump start pack. We'll have you up and running in no time.
This same kind of service also goes for EVs. That's right, even if you drive an electric vehicle, we can most likely get you charged on the spot. Few other towing companies in the area can say that.
So don't worry about a dead battery in the dead of night. So long as you have our number handy, there's always someone close by who can help. We're the good guys. Heck, if we weren't so prone to getting embarrassed about praise, we might even confess to being pretty great.
Flat Tire Changes
You're driving along and suddenly you hear a noise and then feel the car start to pull to one side. You know what that means–you've got a flat tire. But don't worry, Deerfield Beach Towing Company has you covered with our flat tire change service. We'll send someone out to put on your spare so you can be on your way.
And if you don't have a spare? No problem! We'll just tow you to the nearest service station where they can help you out.
Pricing
Wondering how much our services are going to cost you? The answer is: it depends. There are a lot of factors that go into pricing, such as the type of service you need, the distance you have to travel, the time of day, and so on.
Our rates are very competitive and we accept all major credit cards. Give us a call at (954) 787-2879 for more information. We'll be happy to answer any questions you may have.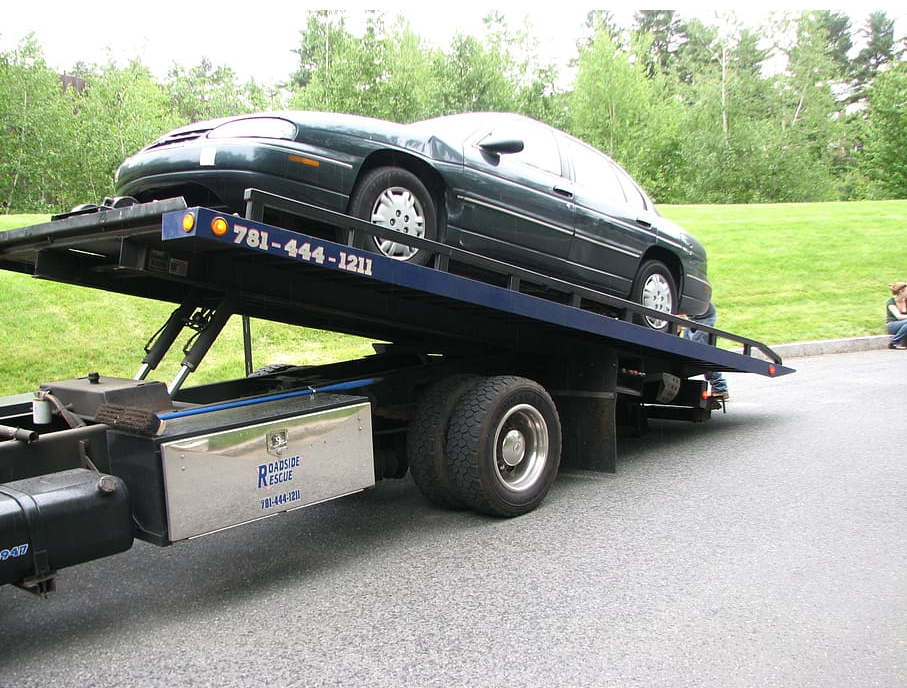 Areas We Service
Deerfield Beach Towing Company covers a large area of the coast with professional towing services. We've been called to places like Deerfield Beach, Boca Del Mar, Boca Pointe, Pompano Beach, Hillsboro Beach, and Sandalfoot Cove. You're almost never too far away for us to help. Give the team a call.
Request A Towing Service Now
If your vehicle has broken down and you need a tow, please fill out the form on the side of this page and one of our representatives will get back to you as soon as possible. This form is also good for getting you a free quote on our services. Alternatively, you can call us directly. With a phone call, you'll speak to a member of our courteous and efficient staff who'll be happy to answer all of your questions.
No matter what time it is or what day it is, Deerfield Beach Towing Company is always here to help customers out. We're just a phone call away. So don't hesitate to reach out to us when you need a tow. We'll be there in a flash.
Deerfield Beach Towing Company is always readily available at (954) 787-2879.